High Medical Coverage
Preparedness is the Best Protection for Your Loved ones 
Total Coverage for you, your family and your car. Receive up to S$20,000 Personal Accident Cover and additional Medical Expenses in the event of an accident
Daily Transport Allowance
If repairs takes more than 3 days

Don't fret if your car is under repairs in the workshop! Get transport allowance should your repairs take more than 3 days. 
24/7 Roadside Assistance at your service
Feel safe and Protected on the Roads 
Get 24/7 hours roadside assistance in the event your car breakdown. Not only do we take care of you, your car is important to us. 
Flexible Workshop Plan
For your comfort and convenience
Enjoy the flexibility of bringing your car to your choice of car workshops or take advantage of our quality workshops with reduced excess. 
Complimentary Car Works
Free Car Servicing or Grooming with purchase of any new Car Insurance policy
Not only do we take care of you, your car is also important to us. Give your car a good treatment to maximize the efficiency. Enjoy a choice of Free Car Servicing, Air-con Treatment or paint protection. Terms apply.
Learn more about the coverage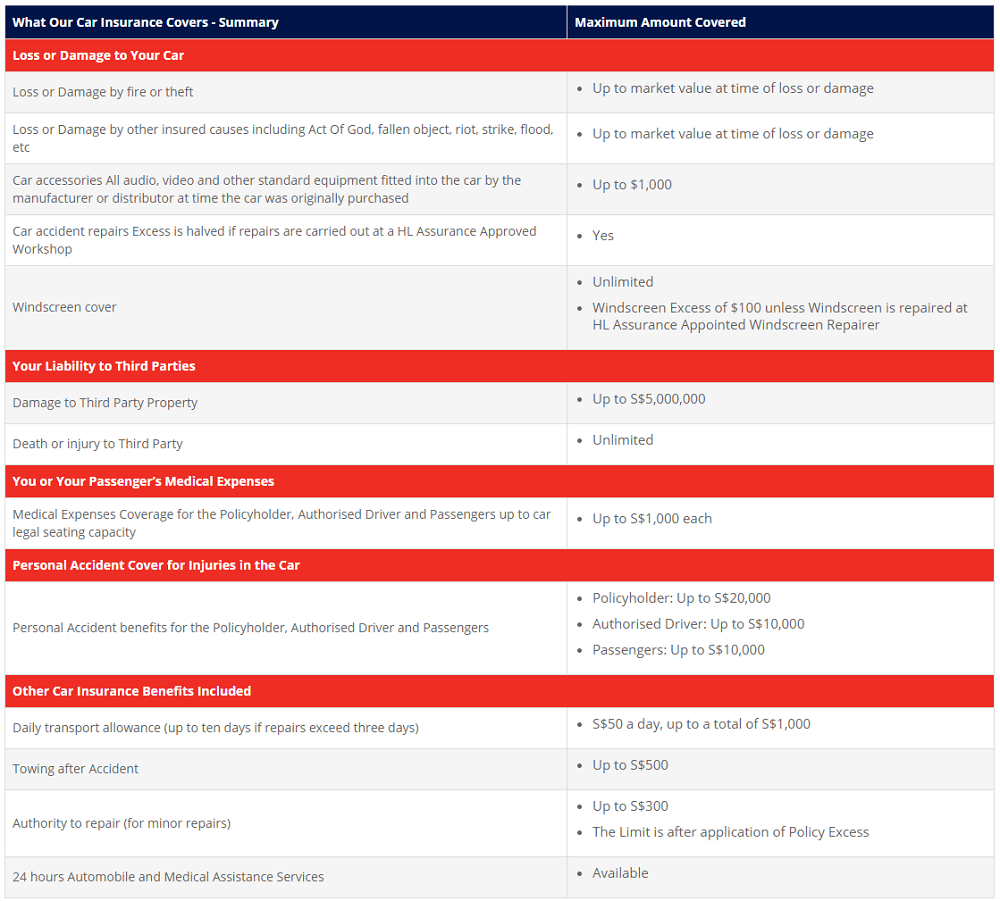 Disclaimers
Car Protect360 is underwritten by HL Assurance Pte. Ltd. ("HL Assurance") and distributed by HL Bank Singapore ("HL Bank"). It is not an obligation of, deposit in or guaranteed by HL Bank. This is not a contract of insurance. Full details of the terms, conditions and exclusions of the insurance are provided in the policy wordings and will be sent to you upon acceptance of your application by HL Assurance.
This policy is protected under the Policy Owners' Protection Scheme which is administered by the Singapore Deposit Insurance Corporation ("SDIC"). Coverage for your policy is automatic and no further action is required from you. For more information on the types of benefits that are covered under the scheme as well as the limits of coverage, where applicable, please contact HL Assurance or visit the General Insurance Association or SDIC websites.
Requirements
You must be between 27 years to 64 years of age as of your last birthday to effect the Car Protect360 plan.
Contact Us or Visit Our Branch at 7 Wallich Street, #B1-25 and B1-26 Guoco Tower, Singapore 078884