Coverage of Home Contents and Furniture
Against Unforeseeable Situations such as Fires, Burglaries and Floods
Home Protect360 provides insurance coverage for your furniture, valuables, renovations and personal liability against unforeseeable situations such as fires, burglaries and floods!
Worldwide Personal Liability
Keeping Your Home and Family Safe
Not only will you get Personal Accident Insurance Cover for you and your loved ones, we will provide Worldwide Personal Liability against any legal liability for accidental property damage or loss or accidental death of or bodily injury caused by negligence.
Loss of Money due to Theft in Your Home
Protection Against Burglary and Theft
In the unlikely event of a burglary, get replacement costs of locks, keys, windows and covered the loss of your hard-earned cash and jewellery that you have kept in locked drawers or safe!
Family Personal Accident Coverage
Protection Against Personal Accident worldwide for you and your loved ones
Enjoy up to $10,000 Personal Accident coverage per Adult worldwide. 
Complimentary Home Concierge
Home Assistance Concierge Services Hotline
Home Protect360 Policyholders can call our Home Assistance Concierge Services Hotline and request for a complimentary concierge services for electrician, locksmith, plumber, pest control and air-con repair service.
Learn more about the coverage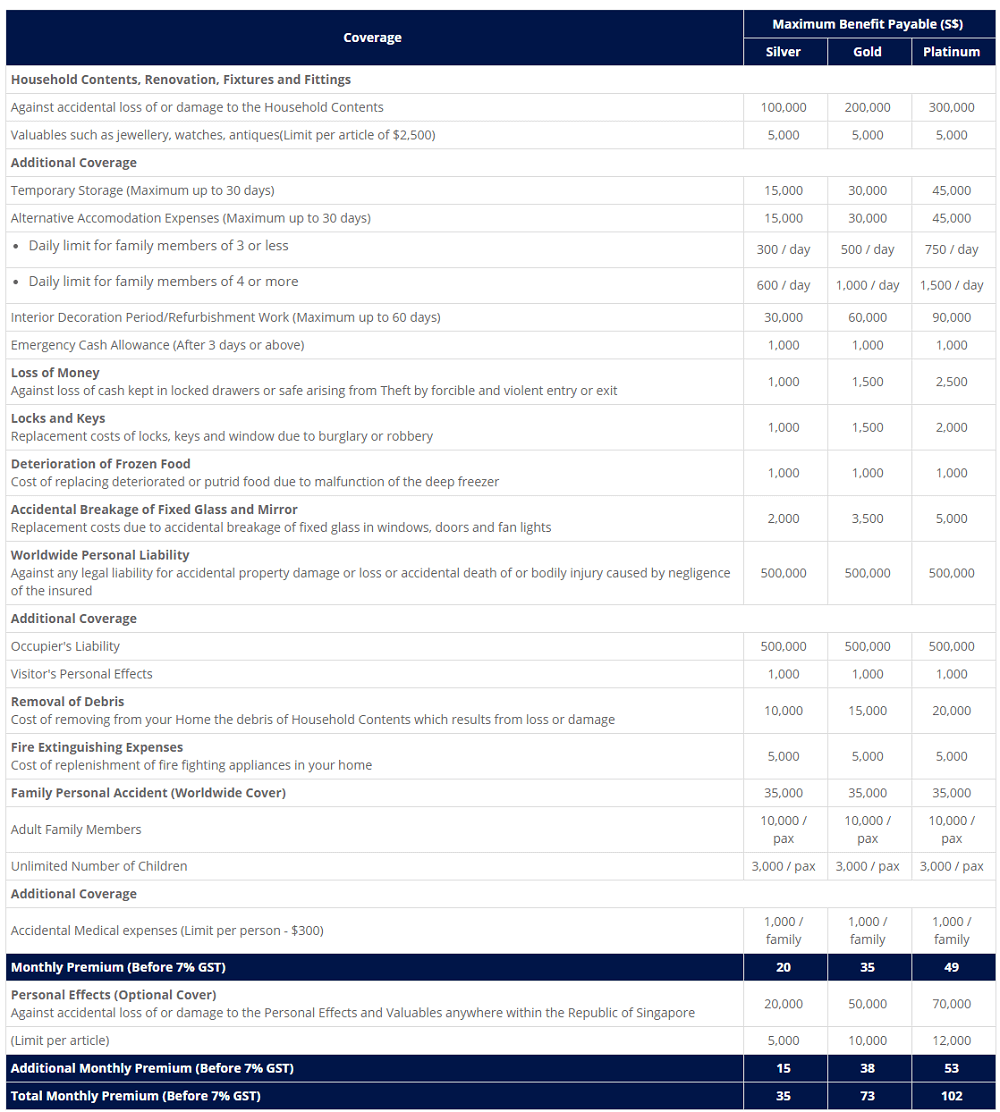 Disclaimers
Home Protect360 is underwritten by HL Assurance Pte. Ltd. ("HL Assurance") and distributed by HL Bank Singapore ("HL Bank"). It is not an obligation of, deposit in or guaranteed by HL Bank. This is not a contract of insurance. Full details of the terms, conditions and exclusions of the insurance are provided in the policy wordings and will be sent to you upon acceptance of your application by HL Assurance.
This policy is protected under the Policy Owners' Protection Scheme which is administered by the Singapore Deposit Insurance Corporation ("SDIC"). Coverage for your policy is automatic and no further action is required from you. For more information on the types of benefits that are covered under the scheme as well as the limits of coverage, where applicable, please contact HL Assurance or visit the General Insurance Association or SDIC websites.
Requirements
You must be at least 21 years of age as of your last birthday
Contact Us or Visit Our Branch at 7 Wallich Street, #B1-25 and B1-26 Guoco Tower, Singapore 078884