Outpatient Medical & Dental Benefit
HLAS Members Rates for Outpatient Visits at GP & Dental Clinics
You can enjoy our members' rates for outpatient visits at GP and Dental clinics island-wide. This also means more savings for you and your family.
Infectious Disease Cover
Extensive Protection for You and Your Family
Other than Medical Expenses due to Injuries, get coverage for you and your family against 20 infectious diseases such as Avian Influenza, Dengue, Zika, HFMD and more.
Children Education Grant
Protect Your Family's Future
Protect your Family with Children Education Grant and Parents Support Grant so that you can be certain they'll have enough protection in the event of an unpredictable accident.
Free Children Cover
Enjoy up to 10% discount + Free coverage for your children too!
Keep your young ones safe from accidents and protection against infectious illness. Get them covered for free now! Terms Apply. 
15% No Claims CashBack
Get Rebates for keeping your Family Safe
Enjoy a 15% Cashback on your Family Protect360 premiums each year whenever there are no claims. 
Learn more about the coverage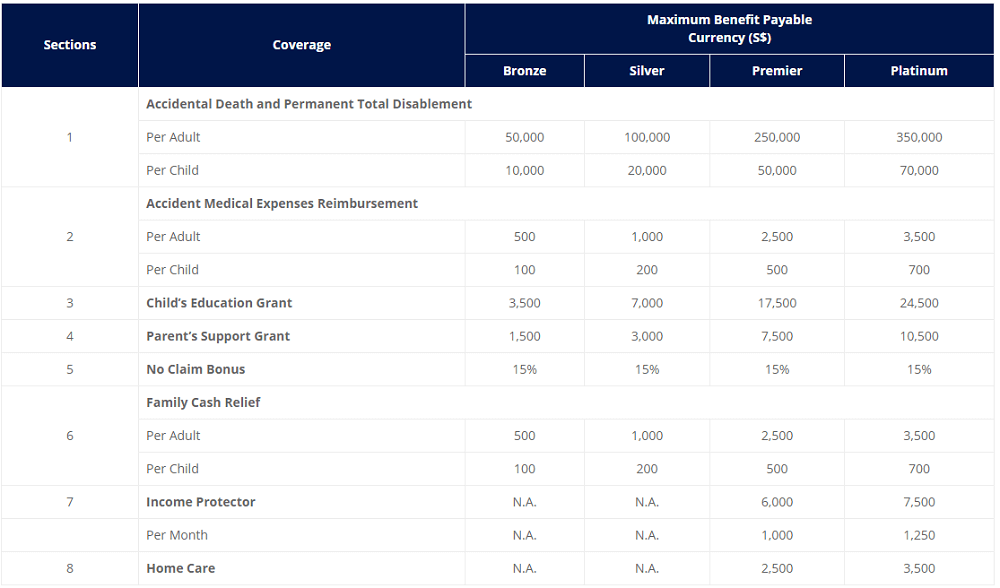 Disclaimers
Family Protect360 is underwritten by HL Assurance Pte. Ltd. ("HL Assurance") and distributed by HL Bank Singapore ("HL Bank"). It is not an obligation of, deposit in or guaranteed by HL Bank. This is not a contract of insurance. Full details of the terms, conditions and exclusions of the insurance are provided in the policy wordings and will be sent to you upon acceptance of your application by HL Assurance.
This policy is protected under the Policy Owners' Protection Scheme which is administered by the Singapore Deposit Insurance Corporation ("SDIC"). Coverage for your policy is automatic and no further action is required from you. For more information on the types of benefits that are covered under the scheme as well as the limits of coverage, where applicable, please contact HL Assurance or visit the General Insurance Association or SDIC websites.
Requirements
The Insured Person is between the age of 18 to 65 years old, renewable up to 75 years old. Age is calculated as at last birthday.
The Insured Person must be a Singapore Citizen, Singapore Permanent Resident, or expatriate or foreigner who is holding a valid employment pass, work permit, dependent pass or long term visit pass and who is ordinarily residing in Singapore, if the Insured Person is away from Singapore for no more than 183 days during the Period of Insurance.
Contact Us or Visit Our Branch at 7 Wallich Street, #B1-25 and B1-26 Guoco Tower, Singapore 078884