Personal Accident & Hospitalization Benefits
Your Domestic Helper's Health Is Our Priority
Receive up to $60,000 if your foreign helper is hospitalized due to illness or injury. In additional, medical expenses incurred due to accident suffered by your helper will also be reimbursed.
Outpatient Medical & Dental Benefit
HLAS members rates for outpatient visits at GP & Dental clinics
Your domestic helper can enjoy our members' rates for outpatient visits at GP and Dental clinics island-wide. This also means more savings for employers.
Maid Termination & Rehiring Expenses
Protection against unexpected expenses
Let us bear the loss of the $5,000 security bond if your foreign domestic worker breaches the bond or contract. You can also get reimbursed should Termination/Re-Hiring of your FDW be required.
50% Off 6-Monthly Medical Examination
Optional & Refundable
Two medical check-ups a year is required by MOM. With this add-on, you will enjoy members rates at our preferred clinics for your helper's check-ups at more than 50 clinics located island-wide.
Learn more about the coverage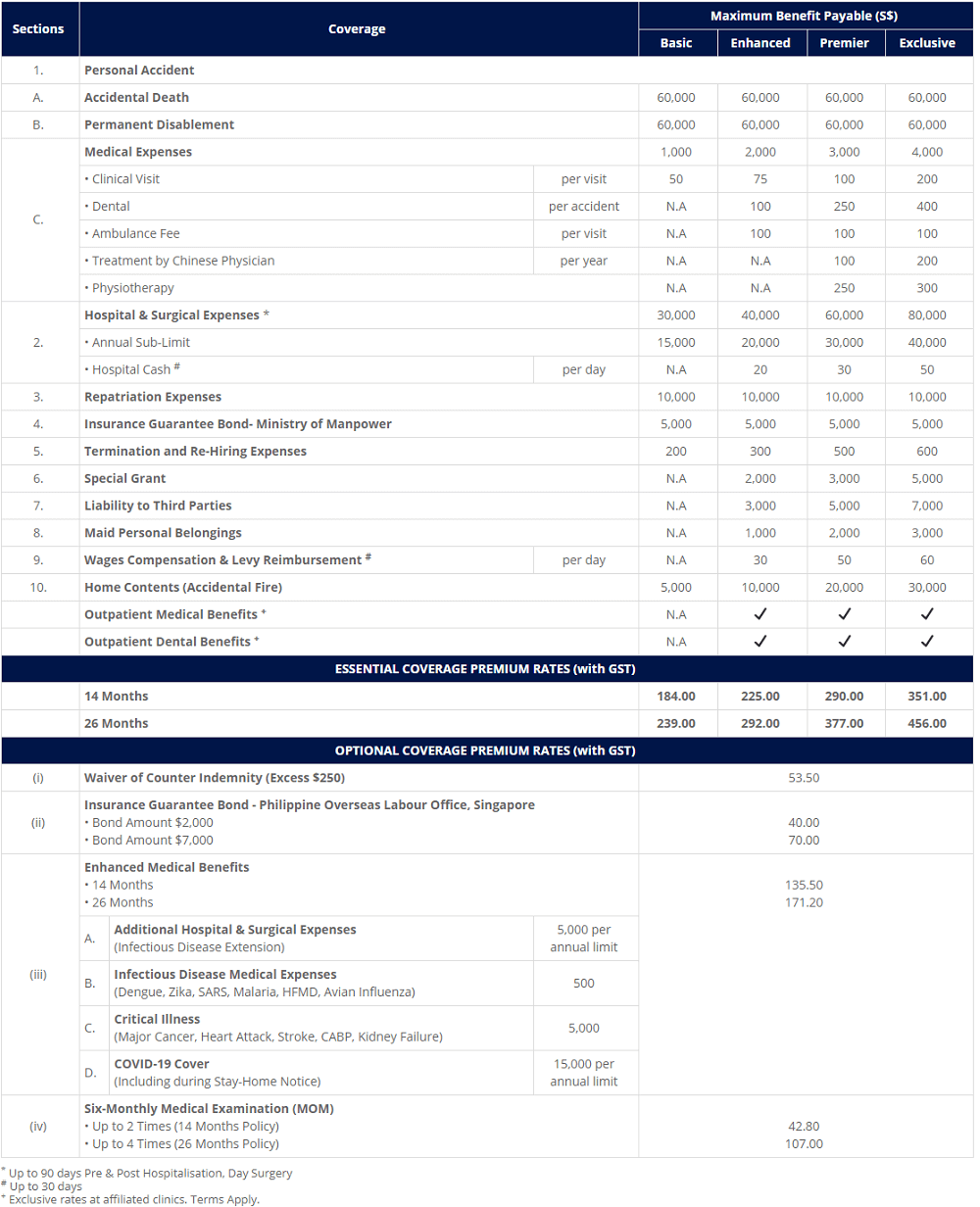 Disclaimers
Maid Protect360 is underwritten by HL Assurance Pte. Ltd. ("HL Assurance") and distributed by HL Bank Singapore ("HL Bank"). It is not an obligation of, deposit in or guaranteed by HL Bank. This is not a contract of insurance. Full details of the terms, conditions and exclusions of the insurance are provided in the policy wordings and will be sent to you upon acceptance of your application by HL Assurance.
This policy is protected under the Policy Owners' Protection Scheme which is administered by the Singapore Deposit Insurance Corporation ("SDIC"). Coverage for your policy is automatic and no further action is required from you. For more information on the types of benefits that are covered under the scheme as well as the limits of coverage, where applicable, please contact HL Assurance or visit the General Insurance Association or SDIC websites.
Requirements
The applicant must be at least 18 years of age as of your last birthday
Contact Us or Visit Our Branch at 7 Wallich Street, #B1-25 and B1-26 Guoco Tower, Singapore 078884